San Luis Obispo County sees continued rise in Home sales and prices over 2015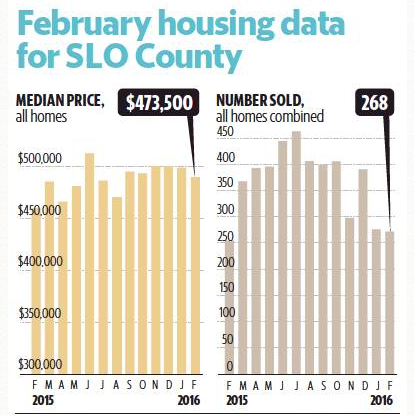 Overall San Luis Obispo median home price rises to $473,500, up 5.5 percent from the same month a year ago.
Overall San Luis Obispo home sales in the county increase to 268 in February, up 1.5 percent from a year earlier.
Both the overall number of home sales in San Luis Obispo County and the median home price rose slightly in February from the same month a year ago, while dipping marginally from January's numbers.
Total sales, including new homes, resale single family homes and condos, were 268 in February, up 1.5 percent over the same month a year ago when 264 units were sold.
The overall San Luis Obispo median home price rose 5.5 percent to $473,500 in February from $449,000 a year earlier. (The median is the midpoint at which half of the houses sold for more and half for less. Figures are compared year over year because of the seasonal nature of home sales.)
The California Association of Realtors reported that closed escrow sales of existing, single-family detached homes in the state totaled a seasonally adjusted 393,360 units in February, up 6.4 percent from February 2015.
The association reported the median price of a resale single-family detached home in California was $446,460 in February, 3.8 percent higher than the revised $429,930 recorded in February 2015.
In San Luis Obispo County, 68.3 percent of all sales in February were resale single-family homes. Resale single-family home sales decreased 16.1 percent to 183 units sold in February; the median price of these resale homes rose by 8.9 percent to $488,750.
The number of condos sold in the county was 37 units, up 42.3 percent from 26 in February 2015. The median price for condos was $370,000, down 0.7 percent from a year ago.
Sales of new homes increased by 140 percent in February, with 48 units sold, compared with 20 the previous year. The median price of new homes sold increased by 7.8 percent year over year to $553,500.
Please read more from the San Luis Obispo Tribune News in the Apr. 7, 2016 edition
Please contact Monique to find real estate and homes for sale in San Luis Obispo. Take advantage of a housing market that continues to rise in one of the best places in the world!